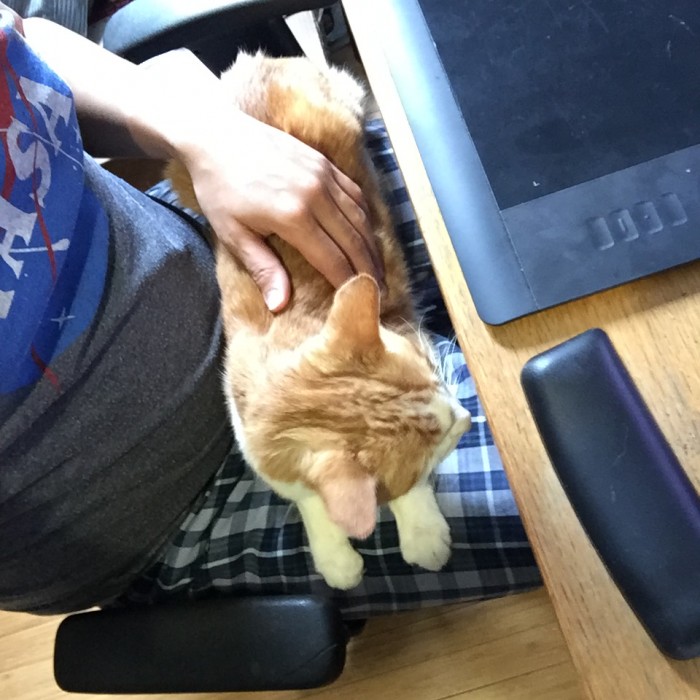 Thank you very much for the outpouring of kind words since last Friday. It meant a lot to me, and I'm happy to say that I have great news: things may not be quite so bleak as I thought last week.
For some background, since I haven't shared much of this publicly, my cat Punk very nearly died in September from a urinary tract infection. A slew of medicines turned things around after a rough couple of weeks, and he had two great weeks but then relapsed. As it turned out, the strain of infection he had was resistant to the antibiotics he was on, so he had to go on some new meds.
Because he wasn't back at 100% (as close to 100% as an 18 year old cat with three chronic diseases gets, anyway), the recovery this time was very, very hard on him. Punk had to be taken to the emergency room last Wednesday evening, then he wasn't handling the pain medication they prescribed very well — or eating, except when I would spoon feed him baby food — so I was… in a very bad headspace last week.
With non-stop attention and some tweaks to his medication dosages, he began improving steadily on Friday evening, started to eat on his own and seek out my company on Saturday, and he even meowed for the first time in two weeks on Sunday.
If this keeps up, this will be the third time he's cheated death (last month, and a bout with pancreatitis a couple of years ago), but I'm still nervous about him relapsing yet again. There's also the very real possibility that there is something else going on behind all his recent troubles…
But… he's a tough little guy, and he's had a great couple of days,which is very encouraging. He has even managed to get back to work on the strip with me (pictured above!), and we'll hopefully be able to keep at it.
The Multiplex update schedule may be a little erratic for the next couple of months. If that happens, hopefully it will be because I need more time to finish my MFA thesis, not another downturn in Punk's health. Either way, thank you for reading, and thank you for all your support — financial, emotional, and… egotistical?