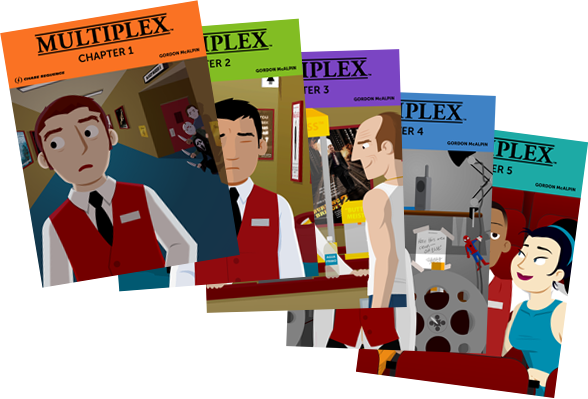 I spoke a little too soon yesterday. Last night, I got a bug up my hind end and cranked out the rest of the revised Chapter eBooks, so the revised edition of Chapters 1–5 are now available through the Multiplex Store at their new price of $1.49 apiece (or $5.95 for the set). As I mentioned yesterday, if you've already purchased the Chapter 1–5 set (and yes, this includes people who got them for "free" by backing the Multiplex: Enjoy Your Show Kickstarter project!), you can simply re-download them from your Multiplex Store's Accounts / Downloads page to get the revised editions. While there's no new content, there is a new introduction to the Chapter 1 eBook (explaining why I made the revised edition), and there are some corrections — mostly typos and small artistic/continuity errors that snuck into the previous editions and even the print book.
I've also created Chapter pages for the new eBooks — as well as the upcoming Chapter 6 eBook, which is now available for pre-order! It should arrive in early October (if not sooner). I have one last bonus comic to create for it, and a few finishing touches to one of the "extended scenes," so it won't be long now.
The Chapter 6 eBook collects strips #103–121 from the Multiplex archives, plus six bonus comics (a few of which first appeared at the Deleted Scenes blog) — all for only $1.49. Meet the Flickhead video gang for the first time all over again, and watch Jason make an ass out of himself… oh, wait. That's pretty much all the time, isn't it?
Anyway. If you're one of those Multiplex fans eager to see the Book 2 print collection come out sooner or later, please get the Chapter eBooks. The revenue from the eBooks enables me to get the bonus material for the print collections done — so even if you're not all that interest in the eBook format, they're a great way to help speed up the production of the print collections!
And, you won't be spoiling the printed book completely, since — like Multiplex: Enjoy Your Show (Book 1) — there will be even more bonus comics exclusive to the print book. Unlike Book 1, however, the exclusive comics in Book 2 won't be a single story, but several strips spread throughout the book. I feel like the arc in Book 2 is a lot stronger than Book 1's, since it centers around Becky & Jay and that period where Jason quit the Multiplex 10, so there wasn't really a need to include a new, longer story, like there was in Book 1, and will be in Books 3 and 4 (which I think will revolve around Brian and James, respectively).