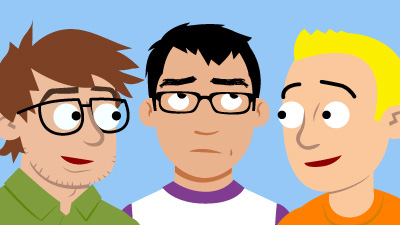 The Triple Feature, the late, lamented podcast I co-hosted with Theater Hopper's Tom Brazelton and Joe Loves Crappy Movies's Joe Dunn is coming back for a one-time special video episode. That's right — this time, you will get to see our pretty faces, too!
On January 26th at 9pm Central, Tom, Joe, and myself will be Google+ Hanging Out to discuss a triple threat of topics: Jack Reacher (the Christopher McQuarrie Tom Cruise flick), the first few episodes of Helix (the new sci-fi series from Battlestar Galactica's Ronald D. Moore), and Slayground (the fourth and latest in Darwyn Cooke's series of comics adaptations of the Parker novels)! It should be a lot of fun.
In order to be able to "call in" (ask questions during the show either in the group chat or possibly even join us on screen), you must be one of my Patreon backers at the $10 level or higher. Those of you who are eligible will receive invites before the show starts. But I will be making the video available to watch on YouTube after the fact.