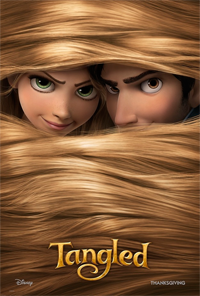 Directed by Byron Howard and Nathan Greno.
Written by Dan Fogelman.
Starring Mandy Moore, Zachary Levi, Donna Murphy, Ron Perlman, M.C. Gainey, Jeffrey Tambor, and Brad Garrett.
I know, Tangled has been out for a while, but while I thought the trailers looked amusing, I didn't really expect to see what I think of as the first Disney classic since the three-peat of Little Mermaid, Beauty and the Beast, and Aladdin. That statement will chafe fans of The Lion King or Lilo & Stitch (and I absolutely adore Lilo & Stitch); it's not to say, necessarily, that Tangled is better than all of those films, just that something about those films lacked the fantastical, fairy tale setting that I associate with "classic Disney." (To further qualify that statement, I've skipped several Disney animated features after the disappointing Pocahontas.)
It's more than just setting, though: Tangled's songs are — for the first time since The Little Mermaid and Beauty & the Beast — truly good, not just serviceable. Composer Alan Menken has found a fantastic new collaborator in lyricist Glenn Slater; none of Menken's Disney efforts since the death of Howard Ashman quite recaptured that same Disney magic like Slater and Menken do in Tangled.
The leads — Mandy Moore's Rapunzel and Zachary Levi's Flynn Rider — are endearing and memorable, and yet very much in the classic Disney mold. Moore (who impressed me in both Saved! and Dedication) is utterly irresistible as Rapunzel, played as an infectiously excitable almost-18 year old girl who seems very much like the classic Disney princess… hopped up on Red Bull. If she comes off a bit extreme, it's only appropriate: where Ariel and Belle were girls confined by their parents or their "small provincial town" their whole lives, Rapunzel grew up in one building for as long as she can remember.
Despite all of this rekindling of the old Disney magic, though, Tangled manages to feel fresh and modern. Perhaps most impressively, it does it earnestly, without that grating snarky attitude of the Shrek movies — that feeling of superiority over its own subject matter — that has come to mean (at least with me) "we know this isn't really that great, but if we pretend we're just kidding around and stick in some fart jokes and pop songs, you might fall for it."
I groaned (while smiling) at a couple of silly jokes, but the film simply never hits a false note. The handful of brief action sequences are tremendously fun, the pacing is fast and smooth, and it tugs at the heartstrings a couple of times — perhaps not so forcefully as either Toy Story 3 or How to Train Your Dragon did earlier this year, but with no less skill. Despite its middling performance at the box office, this Rapunzel will soon secure her place in Disney's princess pantheon — and it will be well-deserved.
See it while you still can, or keep your eye out for the DVD.
Tangled is rated PG for "brief, mild violence," apparently. I wouldn't have guessed it, myself. It's a totally kid-friendly flick.