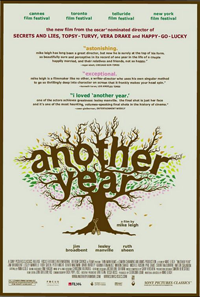 Directed by Mike Leigh.
Starring Jim Broadbent, Lesley Manville, Ruth Sheen, and Peter Wight.
Another Year, from Topsy-Turvy and Vera Drake director Mike Leigh, centers around one blissfully happy family, Tom (Jim Broadbent), Gerri (Ruth Sheen), and their son Joe (Oliver Maltman), and a handful of profoundly unhappy satellites — chief among them Mary (Lesley Manville), a divorced, forty-something co-worker of Gerri's, desperately lonely and unable to meet a man up to her inordinately high standards.
True to life, Mary finds Ken (Peter Wight), another friend of the happy couple's, whose brand of loneliness is nearly identical to her own, "weird" and pushes away his (admittedly ungentlemanly) advances, steadfast in her belief that she could do better…  and, in fact, setting her sights on Tom and Gerri's thirty-something son, in the process. Mary's one-sided flirtation with Joe becomes complicated by the introduction of a new girlfriend, Katie (Karina Fernandez), but… as the title would lead you to believe, the film ends more or less where it began. The film has no climax, and few confrontations; those few that occur are largely by Tom, and he's quickly glanced into submission, presumably out of some sense of propriety. The sad irony, of course, being that in some cases, tough love is the greater love that you can give someone you honestly consider a friend.
While it may be open to interpretation, and this is certainly colored by my own experience (as are all films), I felt some measure of quiet condemnation of Tom and Gerri's relative inaction to their friends' loneliness. They may not be responsible for their misery, but you can't help feeling that the couple takes some satisfaction in surrounding themselves with the desperately unhappy, or that they could, just possibly, make a little more of an effort to help them. Judging from other reviews, that may just be my reading of it, having had a few spots of crushing loneliness myself, on a few occasions in my life (yes, I know, poor me), but in one early, telling sequence where Mary is invited over for dinner, she inquires about whether anyone else was going to be there, and Tom replies, "We want you all to ourselves."
That is the real beauty of Another Year (and, indeed, all of Leigh's films that I've seen): thanks to its flawless cast (largely consistent of Mike Leigh regulars), the characters are just so utterly real, that you love them, ache for them, become cross with them and tire of them like real people. Over the course of Another Year, Mary's numbing misery of loneliness slowly and surely eat away at her, and you die a little each time. Ultimately, Another Year is a bit of a downer. But, you know, that's how life is sometimes.
Another Year was released last fall in the UK and a few other countries. It is currently in limited release here in the States and will find its way to Australia later this month.