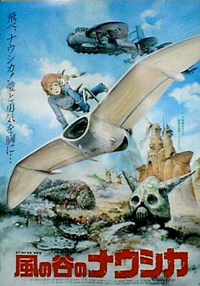 Nausicaä of the Valley of the Wind


Directed by Hayao Miyazaki.
Starring Sumi Shimamoto, Mahito Tsujimura, Hisako Kyôda, Gorô Naya, Ichirô Nagai and Kôhei Miyauchi.
Most of the geeky kids of my generation were introduced to feature-length Japanese animation with Katsuhiro Otomo's apocalyptic Akira, a stunning apocalyptic masterpiece. Although I didn't realize it at the time, my own introduction to it was when I was in the sixth grade or thereabouts. Lazing about the house one afternoon, I noticed that an animated feature called Warriors of the Wind was playing on HBO in a few minutes, so — budding animation buff that I was — I decided to give it a try. To put it mildly, it blew my little brain out the back of my skull.
I had never before seen anything even remotely like it. I couldn't have. American cartoons were nothing like this. There were Disney cartoons, amusing fluff like Smurfs and embarrassing garbage like The Last Unicorn. Even action cartoons like Transformers (which I didn't realize was also Japanese until many years later), G.I. Joe and the sadly short-lived Dungeons & Dragons were so kiddie-fied that even as I watched them, I knew they weren't even remotely on the same level as Star Wars or other live-action films. Warriors of the Wind was on an entirely different level: it was an animated film for people with brains.