In case you missed it, I shared a short PDF eBook with eight Multiplex Movie Review comics on Patreon and elsewhere (publicly/free/etc.) Some of those comics might be new to you. But that got me thinking… which is never a good thing…
We are in the last few days of the Multiplex: The Revenge Kickstarter project! Thanks to a veritable onslaught of pledges (and pledge increases!) yesterday, things are looking less grim than yesterday: we've just passed 80% of the funding goal! This means there is less than $5000 to raise — but only three and a half days to do it in.
SO. Let's do this. I've set three milestones, at $2,000 increments, to get us to the funding goal with a little time to spare. If we pass each of them (any time before MIDNIGHT), I'll do the following Multiplex Movie Review comics — one page per movie — and share them right here in the Deleted Scenes blog… you know, after I watch the movie and make the comic. (In case you're curious, of the movies here, I've only ever seen the first three Transformers movies.)
The first one's easy, too, since we're (currently) at $19,250…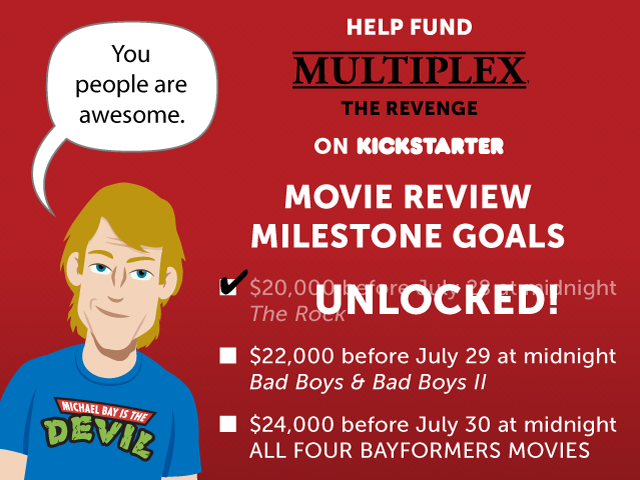 UPDATE (July 28 at 6:45pm): The Rock is UNLOCKED!