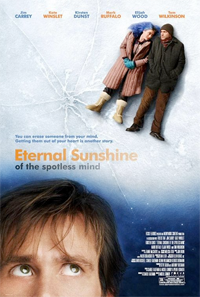 Eternal Sunshine of the Spotless Mind


Directed by Michel Gondry.
Written by Charlie Kaufman from a story by Charlie Kaufman & Michel Gondry & Pierre Bismuth.
Starring Jim Carrey, Kate Winslet, Kirsten Dunst, Mark Ruffalo, Elijah Wood, and Tom Wilkinson.
Eternal Sunshine of the Spotless Mind centers on Joel (Jim Carrey), who, upon learning that his ex-girlfriend Clementine (Kate Winslet) has undergone a procedure to completely erase him from her memory, undergoes the same procedure himself — but as both his bad and good memories of her begin to fade away, he changes his mind and he begins to hide her away in other memories where she doesn't belong, in hopes of protecting his memory of her from the erasure. It gets weirder from there.
Charlie Kaufman is without doubt the most imaginative screenwriter working in Hollywood today. His resumé gets more impressive every year: Being John Malkovich, Human Nature, Adaptation, and Confessions of a Dangerous Mind are all terrific, funny and highly imaginative movies, though each is flawed in its own way. Michel Gondry's previous attempt to turn a Charlie Kaufman screenplay into a movie, Human Nature, though definitely enjoyable, was the weakest of the four, mostly due to surprisingly uninspired work from the director of several wonderfully inventive music videos (for Björk, Radiohead and the Chemical Brothers, among others).
With Eternal Sunshine of the Spotless Mind, working from a story developed with Michel Gondry and artist Pierre Bismuth, Kaufman improves on all of his previous scripts by adding a touching, melancholy love story, as well as several achingly beautiful, often fleeting, insights into the nature of memories and relationships. It also benefits from having the strongest ending of any of his scripts — Being John Malkovich, in particular, suffered from a somewhat disappointing final act that didn't live up to the promise of its nearly flawless first hour. Eternal Sunshine is at the same time his most coherent, most insightful and most out-there script to date. For Mr. Gondry's part, he has filmed not only the best Charlie Kaufman film to date, but one of the most visually exciting films in years.

Clever yet mostly subtle use of special effects (both the old-fashioned kind and, less often, the computer generated kind) and quick, jittery cuts inside Joel's mind make for perhaps the most authentically dream-like dream sequences ever filmed: These giddy, trippy, slightly disjointed scenes alone, which make up a fair chunk of the movie, are worth watching the movie for. While we're outside of Joel's head, Gondry and Kaufman reveal the "real world" events somewhat out of sequence, and as a result, we end up piecing together Joel and Clementine's relationship the same way that the mind creates our concepts of ourselves and of other people by filling in the gaps between a handful of isolated experiences and impressions.
Cinematographer Ellen Kuras's work isn't flashy as, say, Newton Thomas Sigel's on Confessions of a Dangerous Mind, but it brilliantly underscores the film's themes. By choosing to employ a muted color palette reminiscent of old photographs and shooting the scenes in Joel's brain almost exclusively with hand-held cameras, she makes the whole film feel like a bittersweet memory but still, more and more, upon reflection, a fond one. The photography motif occurs repeatedly, most vividly in chase scenes within Joel's mind lit only by an incredibly strong spotlight, which reminded me of the harsh flashes of instant cameras.
Jim Carrey contributes the most understated — and best — actual acting of his career (and I for one think he was excellent in The Truman Show and, though the movie itself was uneven, Man on the Moon) and Kate Winslet is terrific in a role that at first seems better suited to, say, Jim Carrey. (It sometimes seems as if, like Paul Newman and Robert Redford in Butch Cassidy and the Sundance Kid, they decided to switch roles prior to filming.) As for the supporting characters, Kirsten Dunst, Mark Ruffalo, Elijah Wood and Tom Wilkinson turn in fine performances, but their involvement with the story is almost entirely in service to the plot and limited to little more than what we need to know in order to follow the story.
The '70s-influenced costume design, the set decoration (a picture frame around Clementine's TV is a nice touch), and the slight score by Jon Brion all fall into place terrifically, too. The most artfully crafted, flawlessly told film since The Royal Tenenbaums, this modern-day fable has emotional resonance in spades and enough ideas to keep them rolling about your head for days; Eternal Sunshine of the Spotless Mind is a masterpiece.
(Originally published at Gapers Block on March 24, 2004.)