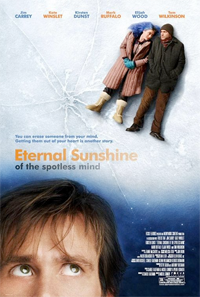 Eternal Sunshine of the Spotless Mind


Directed by Michel Gondry.
Written by Charlie Kaufman from a story by Charlie Kaufman & Michel Gondry & Pierre Bismuth.
Starring Jim Carrey, Kate Winslet, Kirsten Dunst, Mark Ruffalo, Elijah Wood, and Tom Wilkinson.
Eternal Sunshine of the Spotless Mind centers on Joel (Jim Carrey), who, upon learning that his ex-girlfriend Clementine (Kate Winslet) has undergone a procedure to completely erase him from her memory, undergoes the same procedure himself — but as both his bad and good memories of her begin to fade away, he changes his mind and he begins to hide her away in other memories where she doesn't belong, in hopes of protecting his memory of her from the erasure. It gets weirder from there.
Charlie Kaufman is without doubt the most imaginative screenwriter working in Hollywood today. His resumé gets more impressive every year: Being John Malkovich, Human Nature, Adaptation, and Confessions of a Dangerous Mind are all terrific, funny and highly imaginative movies, though each is flawed in its own way. Michel Gondry's previous attempt to turn a Charlie Kaufman screenplay into a movie, Human Nature, though definitely enjoyable, was the weakest of the four, mostly due to surprisingly uninspired work from the director of several wonderfully inventive music videos (for Björk, Radiohead and the Chemical Brothers, among others).
With Eternal Sunshine of the Spotless Mind, working from a story developed with Michel Gondry and artist Pierre Bismuth, Kaufman improves on all of his previous scripts by adding a touching, melancholy love story, as well as several achingly beautiful, often fleeting, insights into the nature of memories and relationships. It also benefits from having the strongest ending of any of his scripts — Being John Malkovich, in particular, suffered from a somewhat disappointing final act that didn't live up to the promise of its nearly flawless first hour. Eternal Sunshine is at the same time his most coherent, most insightful and most out-there script to date. For Mr. Gondry's part, he has filmed not only the best Charlie Kaufman film to date, but one of the most visually exciting films in years.
(more…)