I won't be posting all of the bonus material from the eBooks/print books here, of course — gotta give you some reason to read the collections — but those of you who subscribe to one of the RSS feeds including the Deleted Scenes content or follow me on Twitter can look forward to occasional bonus comics and progress reports on Book 2 here. This is what Deleted Scenes was meant for!
It'll be a while longer before Chapter 6 is a finished; there will be about 10 pages of bonus material (either bonus comics or extended strips) in it, and about five pages of bonus stuff in each of the other four chapters in Book 2, or about 30 pages in all. There won't be a standalone story like Book 1's Prequel this time around.
Anyway. You shouldn't need to re-read Multiplex #108 again to follow what's going on here, but even so, this bonus comic from the upcoming Chapter 6 eBook (and Book 2 print collection) doesn't really stand on its own for a few reasons — it'll work better in context, I promise. In this bonus strip, it's Christmas night (or around there), after work, and the gang has just finished watching the horror remake Black Christmas (as seen in #108), as indicated by the movie poster in the background of panel 1. Devi is back in town from college for the holidays, and Jason is up to his usual thing: complaining. Coincidentally, this strip sort of ties in to what's going on in the strip now with Jason and horror movies.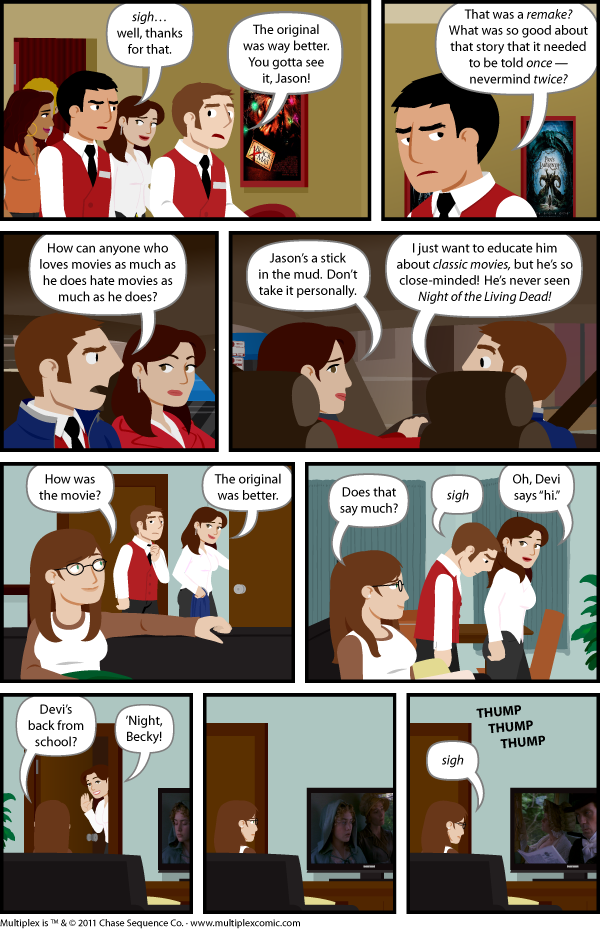 I changed Devi's shirt color from #108; in the collection, it will be changed in #108, too. The day-glo pink I used here would be impossible to print, so I figured if I needed to change it, anyway, I may as well make it a different color from the one she wears on New Year's Eve arc just a couple of pages after this in the collection.