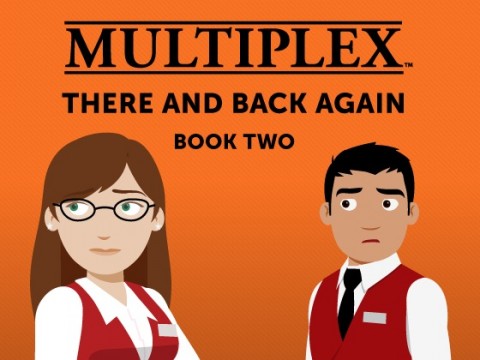 Help fund the production, printing, and distribution of the second Multiplex print collection by donating to the Multiplex: There and Back Again Project at the Multiplex Store! Donated funds will be used in the same manner as the funds raised by the Book 2 Kickstarter Project which has now ended, only now PayPal users (and other people who can't or don't care to use Kickstarter or Amazon Payments) can get involved. These are characterized as donations, because PayPal has a policy that all purchases must be shipped within 30 days. Obviously, the book will not be ready then.
The "prices" (donation amounts) are slightly different from the Kickstarter rewards in that the Kickstarter rewards had some amount of shipping built into their required minimum pledge, and extra shipping was required for international backers. Here, the shipping will be based on an estimate (which is usually pretty accurate), so international backers will be paying an estimated shipping amount that may be higher (or lower) than Kickstarter backers were required to pay. US contributors will find them identical in "cost" to the Kickstarter rewards, once shipping is added on at checkout.
The estimated publication date for Multiplex: There and Back Again is currently February 2013. This is subject to change.
At this point, I've only made the most popular Kickstarter rewards available for purchase, and some of them are unnecessary by the fact that you can just order Multiplex: Enjoy Your Show or the Chapters 1–5 eBooks separately from your donation (and also have Book 1 shipped immediately, rather than wait for Book 2 to be published, as Kickstarter Backers do). If there were any other Kickstarter rewards you would have liked to see, simply leave a comment here or e-mail Gordon, and I'll set it up for you.