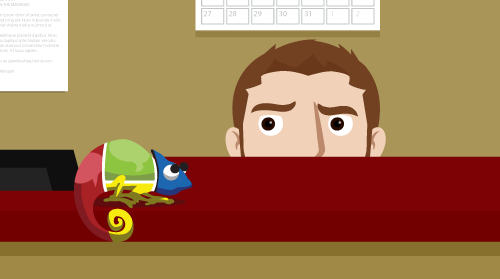 So… big news today: you can now read Multiplex in the super popular Comic Chameleon webcomic reader for iOS. If you already use the app, check it out! If you don't, well, you probably don't care, because with just about every single great webcomic in existence included in their app, how could you possibly need another reason to check it out? Girls with Slingshots, Dumbing of Age, Questionable Content, HijiNKS ENSUE, Wasted Talent and many, many more are all right there at your fingertips. (Even Oglaf, for you perverts with dirty dirty fingertips!)
What does this mean for Multiplex for iPhone and iPod touch? Nothing. Jelly and I hope to add some new features to it soon (likely after iOS 8 is released). I enjoy Comic Chameleon, and I use it to read loads of my favorite webcomics, myself. But it's not an either/or thing. There are several differences between the two apps:
Comic Chameleon has a cool panel viewing mode that makes reading really nice on smaller screens and loads of other great webcomics right in the same app. But — the Multiplex app is ad-free, has the Notes from the Manager posts, Related Strips, and the Cast pages. (There's no way to include them. in Comic Chameleon.)
Also, only Book Seven (strips #771 and forward) are available in Comic Chameleon right now, but if people seem to like reading it in their app, I'll find time to put more of the strips into their system. Marking all the panels up for their panel viewing mode gets time consuming when you have hundreds of comics in your archive.
Frankly, my hope for including Multiplex in Comic Chameleon is that new readers will discover the strip through their app and continue to read the comic whichever way they like most: in Comic Chameleon, on the website, in the Multiplex app… I don't really care how people read Multiplex so long as they enjoy it. (And if I get any significant amount of ad revenue from Comic Chameleon, sweet!)
For Android users, this doesn't change anything — for now. Sorry. Comic Chameleon has plans for an Android version in the works, but nothing firm yet.