CONTACT: Gordon McAlpin
(773) 710-6632
gordon@multiplexcomic.com
FOR IMMEDIATE RELEASE
Chase Sequence Releases First Print Collection
of Its Popular Movie-Themed Webcomic Multiplex
Multiplex: Enjoy Your Show Ushers in a New Breed of Movie Geek Humor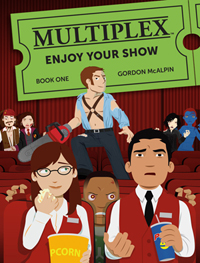 Chicago, Illinois (September 22, 2010) — Chase Sequence is thrilled to announce the release of its first book collection of the hit movie-themed comic strip Multiplex. Multiplex: Enjoy Your Show (224 pages, TPB, $19.95) collects the first 102 strips from the Multiplex archives, over 30 bonus comics, character bios, selected guest strips, and features an all-new, exclusive 12-page prequel story set on opening night of Star Wars: Episode III — The Revenge of the Sith. The book is now available directly from the publisher. Retailers can order the book from its distributor, Small Press United (a division of IPG) at IPGbook.com.
Multiplex combines a unique blend of comedy, drama, and real-world film commentary and criticism, centering on the cynical movie snob Jason and his schlock-loving BFF Kurt, two employees at the Multiplex 10 Cinemas. Together, they're a Film Studies class that was dropped on its head as a baby. As Newsarama's Chris Arrant put it, "Think Clerks in a movie theatre."
Having run continuously for five years, Multiplex has evolved considerably since it launched. The strip has matured, dragging the characters reluctantly into something sort of like adulthood, if you cock your head and squint at it a little. By revisiting these early years with bonus comics to flesh out the story, sort of like an extended director's cut, Multiplex: Enjoy Your Show is not only a great treasury for existing fans, but the perfect introduction to Multiplex for new readers, as well.
About the Author
Gordon McAlpin lives in Chicago with his cat Punk. In his twenties, he watched over a dozen movies a week. Gordon has written movie reviews, co-hosted a movie podcast, and edited a movie news blog, but now he just writes and draws Multiplex. While he has never worked at a movie theater, he has had several equally terrible jobs.
About Multiplex
Multiplex is an online comic strip published by Chase Sequence Co. about the movie-loving and customer-weary staff of the Multiplex 10 Cinemas, as they try to survive each work day. Multiplex has run continuously since July 2005 and currently reaches more than 55,000 unique readers per month, making it the most popular movie-themed webcomic. Multiplex updates twice a week at www.multiplexcomic.com.
###
The cover art for Multiplex: Enjoy Your Show is available for download via this link. A high-res author photo (by Charlene Epple) can be downloaded here. Additional artwork, review copies, and interviews are available upon request.
You can also download a PDF version of this release.