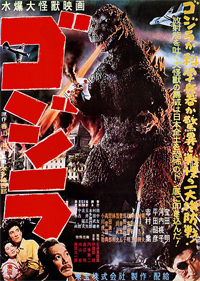 Godzilla


Directed by Ishiro Honda.
Starring Akira Takarada, Momoko Kochi, Akihiko Hirata, Takashi Shimura and Fuyuki Murakami.
Stray Dog


Directed by Akira Kurosawa.
Starring Toshiro Mifune, Takashi Shimura, Keiko Awaji and Eiko Miyoshi.
Although Godzilla creator and producer Tomoyuki Tanaka lifted monster-sized elements from King Kong (1933) and The Beast from 20,000 Fathoms (1953), an early film featuring effects by Ray Harryhausen (Clash of the Titans), the immediate inspiration for Godzilla was a 1954 incident in which a fishing boat called the Lucky Dragon was scorched by an American H-bomb test, seriously burning several of the crew and causing the eventual death of its radio operator from radiation poisoning — clearly the reference point for the opening scene of the original 1954 Japanese Godzilla in which Godzilla's attack on a small boat appears only as a flash of light.
Science fiction writer Shigeru Kayama, along with screenwriters Ishiro Honda (who also directed) and Takeo Murata, extended the metaphor a bit by paralleling many scenes of death and destruction in Godzilla's wake with the aftermath of the H-bomb attacks on Hiroshima and Nagasaki, using images of a flattened, burning town and hospitals overflowing with people. These images vividly recall what little documentary footage I've seen of the Hiroshima aftermath (to be specifc, the stock footage used in the first 20 minutes of Alain Resnais' Hiroshima Mon Amour), but pretending that the film's deeper meaning is much more complicated than "H-bomb testing is bad" is giving the filmmakers a little more credit than they deserve.