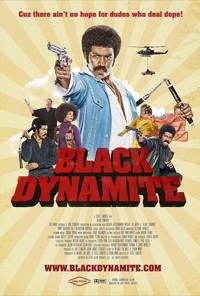 Black Dynamite

Directed by Scott Sanders.
Written by Michael Jai White & Byron Minns & Scott Sanders. From a story by Michael Jai White & Scott Sanders.
Starring Michael Jai White, Salli Richardson, Arsenio Hall, Kevin Chapman and Tommy Davidson.
Spoofs are a tough thing to pull off. Even when they manage to be funny, they're rarely funny for more than half an hour, and usually so overloaded with padding as to render them a waste of time overall. Even more frustrating is when spoofs write themselves into a corner so badly that they end up turning into straight-faced, crappy version of the movies they're supposedly parodying.
So it was with some trepidation that my friend Pete and I tossed in Black Dynamite one evening… and almost immediately loved it. Not only does Black Dynamite work shockingly well as a comedy — never wearing out its welcome for the full, brisk 84 minutes — it's also a pretty effective action movie, thanks to its co-writer and star Michael Jai White.
The premise is a cliché as they come — Black Dynamite avenges his brother's death (a.k.a. Revenge Plot #3) — but this sort of movie isn't about plot; it's about execution, and Black Dynamite is at once a terrific action movie, a painfully funny comedy, and a spot-on parody of the blaxploitation genre, both the relatively down-to-earth movies like the first Shaft and, over the course of the film, the increasingly ludicrous stuff from the tail end of the wave.
For me (and, I think, many film buffs), the best laughs were from the many so-dumb-they're-brilliant touches peppered throughout the movie: a boom mike dipping into view, straight into Black Dynamite's impressive afro; "I threw that shit before I walked in the room!"; and the lyrics at one point in Adrian Younge's fantastically funky score giving a literal play-by-play of the on-screen proceedings.
Sadly, the film sank like a stone in theaters, only screening in 70 theaters for two whole weeks. But that's what home video is for, isn't it?
Black Dynamite is available on DVD, Blu-Ray, and Netflix (via disc and streaming).
Recommended Reading: If you loved Black Dynamite, check out Brian Maruca and Jim Rugg's similar, yet also brilliant Afrodisiac.